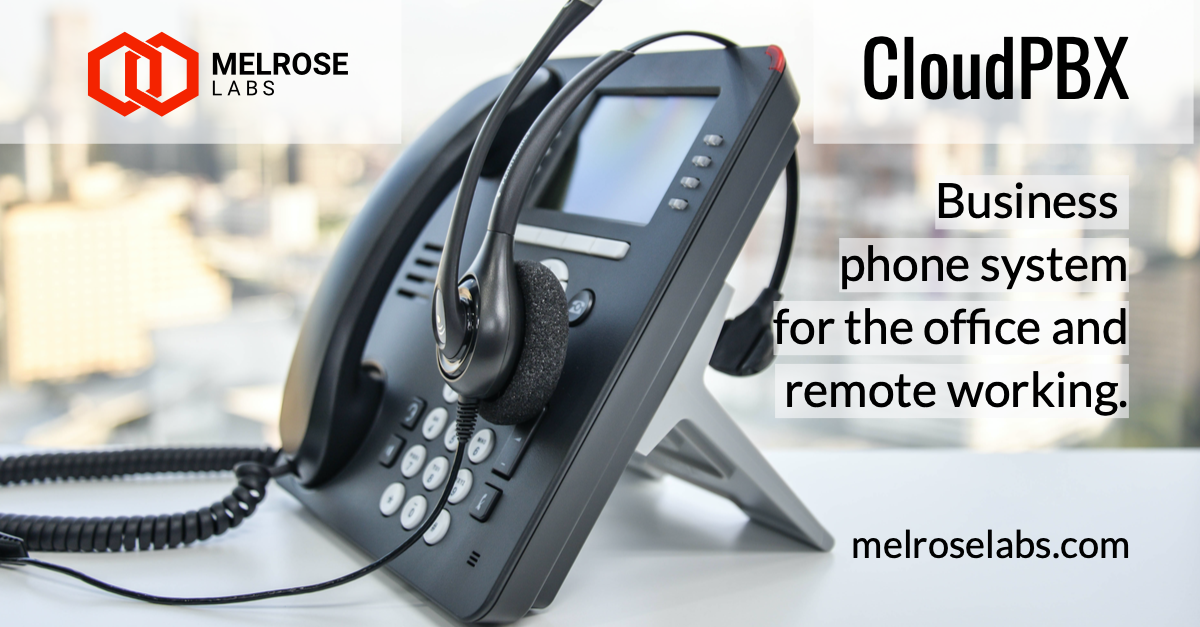 14 Mar 2020 10:50 UTC
CloudPBX Phone System Provided Free of Charge To Aid Remote Working During COVID-19 Crisis
EDINBURGH, Mar. 14, 2020 -- CloudPBX, the hosted PBX service from Melrose Labs, has immediately been made available for free to any organisation around the world who need to have their staff work from home during the COVID-19 crisis. CloudPBX enables staff located in an office or working remotely to be part of the same business phone system in conjunction with softphones or physical VoIP phones.
Melrose Labs CloudPBX can augment an existing office phone system or can operate standalone as a company phone system. It includes a conference call facility, auto-attendant / IVR and voicemail, in addition to other features.
We recognise that remote working is an essential part of business continuity when, for one reason or another, staff can't work in the office. This is particularly the case when staff need to communicate with customers as part of a sales team, customer support or helpdesk. In such cases, it is not always possible to use mobile phones for remote working or collaboration tools such as Microsoft Teams.
Technical
CloudPBX instances can be set-up for each team, or a single instance can be used for the whole company. Inbound calls and internal calls can be routed from the company phone system to the CloudPBX instance and onto the softphone or VoIP phone of each staff member. Outbound calls can be routed from CloudPBX via the company phone system. Extensions on a CloudPBX instance can be set-up as they would be on-premises so that staff can reach each other at their existing extension numbers.
SIP trunks are used on the upstream side of CloudPBX for receiving incoming calls and making outbound calls. The SIP trunks can be established between the CloudPBX instance and the company phone system or the separate Melrose Labs Outbound Voice service could be used for outbound calls. Melrose Labs Inbound Voice can optionally be used for receiving inbound calls to telephone numbers set-up for each team member or for each team. Each extension is a SIP phone, and CloudPBX supports popular phones such as Counterpath's Bria softphone and Polycom VoIP phones (VVX phone comparison).
Ensuring low packet latency and minimising packet loss is essential to maximise call quality when using cloud telephony. The CloudPBX service is available worldwide but located in the EU; however, based on demand, we can immediately build this service in other regions throughout the world. Other regions include North America, South America, Asia Pacific, and the Middle East.
Get in touch
Organisations wishing to use CloudPBX for this purpose should email their high-level requirements to support@melroselabs.com. Our team will normally respond within 1-hour (during extended UK office hours 0800-2000) with our initial response. We will do our best to help.
Melrose Labs CloudPBX: https://melroselabs.com/cloudpbx/
Learn more about Melrose Labs
Web: melroselabs.com
Twitter: twitter.com/MelroseLabs
Facebook: facebook.com/melroselabs
LinkedIn: linkedin.com/company/melrose-labs
About Melrose Labs
Melrose Labs is a cloud communication services provider in fixed-line, mobile, internet and satellite communications. Our services are for large and small enterprises and aimed at empowering organisations to make their organisation better and improve customer experience.
Melrose Labs was founded in August 2019 by Mark Hay, the founder and former owner and CEO/CTO of Hay Systems Ltd / HSL Mobile, the UK-based SMS aggregator. Mark Hay founded HSL Mobile in 1999 and sold the business to LINK Mobility Group of Oslo, Norway in December 2018. Mark Hay brings over 20 years of experience in providing communication services to organisations such as DHL, BAA, Capgemini, Goldman Sachs, John Lewis, IKEA, NCR and NHS.
Melrose Labs is a privately held company headquartered in Edinburgh, Scotland, UK.
Related Links