SMPP SMS Gateway
Cloud SMS Gateway platform with advanced routing, reliability and capacity.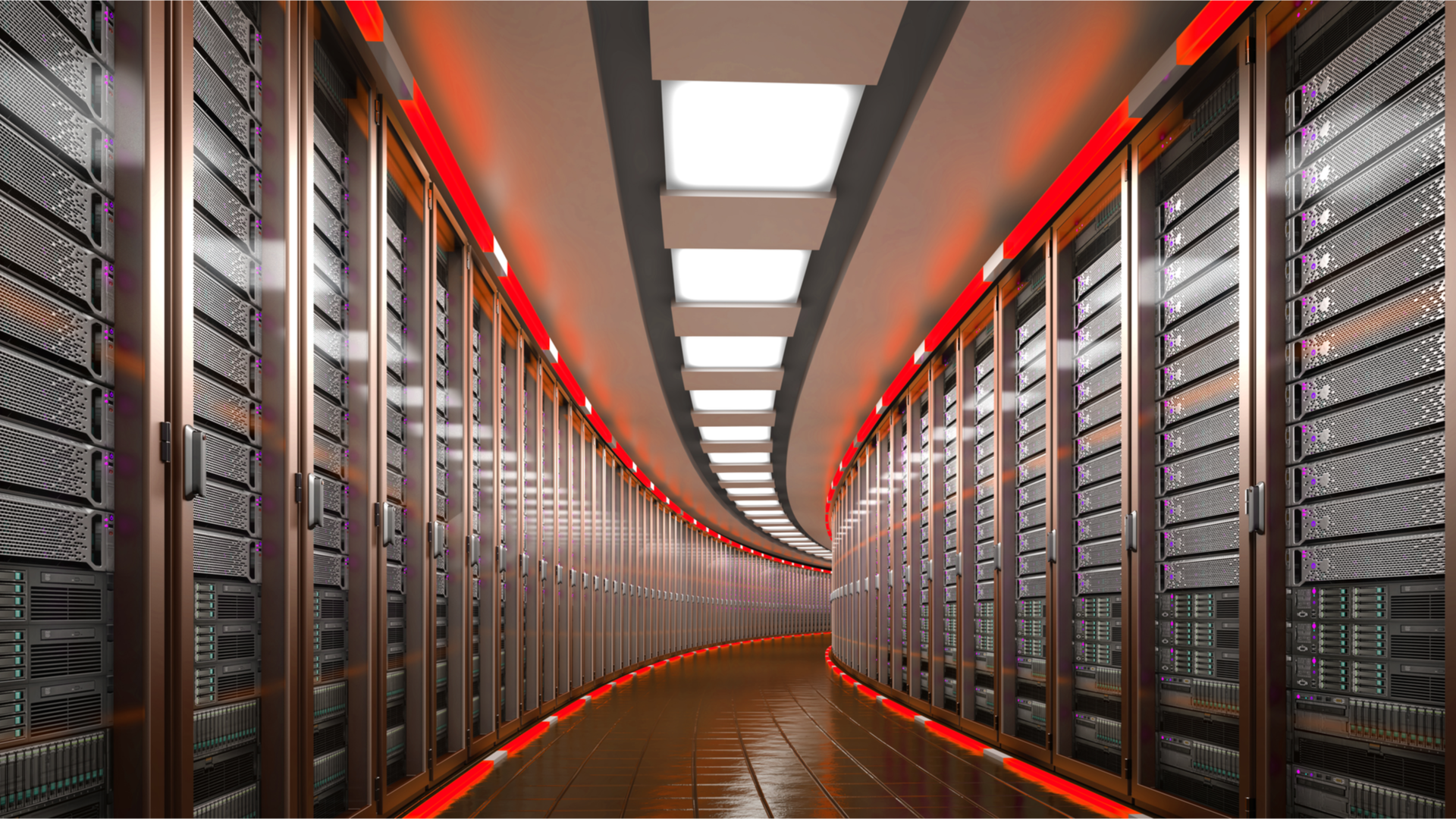 Operate your own bulk SMS gateway service using the Melrose Labs SMPP SMS Gateway platform. Our cloud-based platform enables you to operate your own gateway and manage customers, billing, supplier connections, routing and reporting. Use the SMPP SMS Gateway to start a business in mobile messaging, provide your organisation with their own messaging capability, or to upgrade your existing infrastructure with greater reliability, capacity and capability.
The SMS gateway is the essential core element to enable you to process SMS messages between your customers and mobile users. The gateway not only handles the technical aspects of conveying messages from your customers, via your suppliers and onto mobile users, but also allows you to monetize the service and charge your customers for the SMS traffic that they send and receive. Prepay and postpay charging models are supported and traffic rating allows you to apply different pricing based on factors such as destination/origin, time-of-day, outbound (A2P) / inbound (P2A) and SMS features (a sub-set of dynamic SMS pricing).
Short Message Peer-to-Peer (SMPP) is the API that is used to enable your customers to connect with SMPP SMS Gateway and for the gateway to connect with your suppliers. Other SMS APIs can be provided, such as REST, SOAP, HTTP, SMTP and others, to aid integration with customers and suppliers.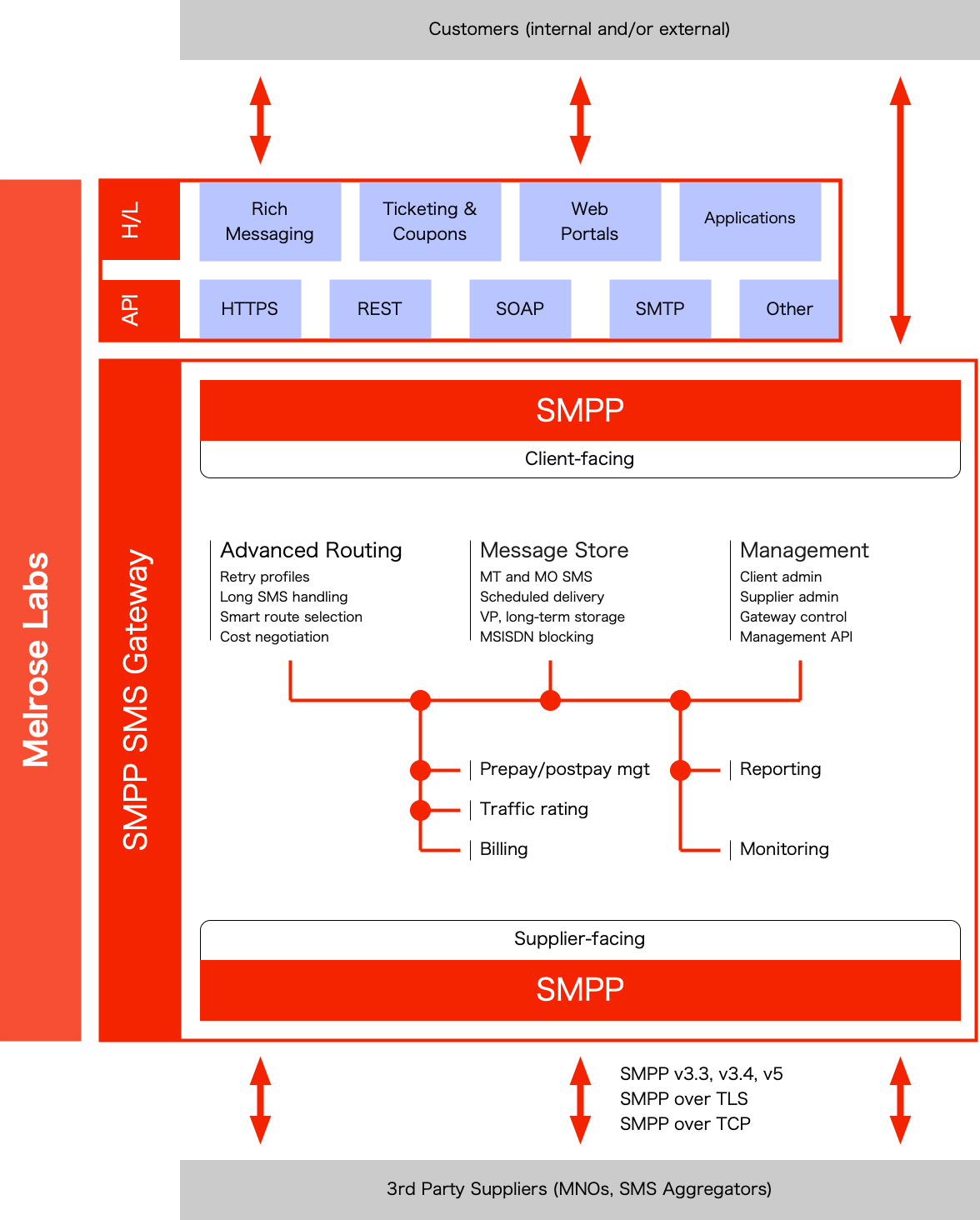 Melrose Labs

SMPP SMS Gateway

Features
Client-side

SMPP v3.3, v3.4, v5
SMPP over TLS
Limit submit rate
Multiple character sets supported

Supplier-side

SMPP v3.3, v3.4, v5
SMPP over TLS
Conversion to/from SMSC character set

Message Store

Outbound (MT SMS, A2P SMS) and inbound (MO SMS, P2A SMS) stores
Scheduled delivery
Validity period
Limit messages per destination
Block sending to specific MSISDNs
Status retrieval via SMPP up to 7-days after completion

Advanced Routing

Retry profile for failed messages
Multiple routes for each destination, with failover
Multi-part (concat/long SMS) handling
Route selection based on message characteristics (originator, data coding, protocol ID, message content, etc)
In-band supplier price negotiation
Route suspension based on delivery success
Maximum cost limit
Network lookup (SS7, ENUM)
Supplier on-net/off-net ratio support
Traffic distribution across routes
Distribution based on level of outstanding messages
Up to 10000 SMS/sec throughput (scaled infrastructure)

When utilising SS7 network lookup the result can be passed upstream in order to avoid the need to perform further lookups.
Monitoring

Alarms:

Client delivery failures (aggregate/country/network)
Supplier delivery failures (aggregate/country/network)
Supplier connection state
Realtime traffic levels and outcomes

SNMP supported

Reporting

Volume reports by client/supplier/network
Revenue reports
Cost reports (inc. estimated vs actual costs)
Margin reports

Pricing & Billing

Client pricing
Supplier pricing
Bill customers (PDF invoices sent to customers; audit trail for import to sales ledger)
Prepay and postpay for clients
Traffic rating
Suitable for bulk SMS

Worldwide Nodes

Europe (UK)
Europe (Ireland)
Africa (South Africa)
Middle East (Bahrain)
North America (US)

South America (Brazil)
Asia (Singapore)
Oceania (Australia)

Management

Portal
Client admin (up to 100k accounts)
Supplier admin (up to 5000 routes)
Gateway control
Management API

General

High reliability
High availability (>99.999%)
Scalable to demands
Live Coming Soon Planned
Not wanting to operate an SMPP SMS Gateway or needing routes for use with the service? If you are looking for an SMS gateway supporting SMPP, with existing connections for terminating SMS to ~900 MNOs worldwide, then we recommend that you use the Tyr SMS Gateway service.
SMSC Simulator : SMS Application Testing
Looking to test your SMS application or SMS-enabled application? Our SMSC Simulator service allows you to test using the SMPP protocol v3.3, v3.4 and v5. Read More >
6 months free-of-charge
Try SMPP SMS Gateway without charge for up to 6-months. Sign-up for announcements to find out more when we launch later this year.
Service snapshot
Customer management (up to 100k accounts)

Supplier management (up to 5000 routes)

Sophisticated routing with 10000 SMS/sec throughput

Pricing management, traffic rating and billing

Monitoring and reporting

A2P SMS

P2A SMS